Welcome to Bates Paving & Sealing, Inc. Tucson Arizona
Bates Paving & Sealing, Inc. is a full service paving company located in Tucson Arizona. We specialize in new construction; repair of commercial, industrial, and privately owned parking lots and driveways; and maintenance of existing asphalt surfaces. Listed below are a few of the services that we provide.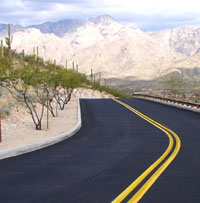 Maintenance Programs
Parking Lots
Speed Bumps
Traffic Marking
Crack Sealing
Bates Paving & Sealing, Inc. has served Tucson businesses, general contractors, building owners, property managers and individuals for over 20 years. We work closely with our customers to bring them the best possible product and offer maintenance plans to keep that product in great condition. Our crews take pride in their work and our customer service is second to none. We look forward to showing you how Bates Paving & Sealing can help you with your project.