About Bates Paving & Sealing
Bates Paving & Sealing, Inc. has served Tucson businesses, general contractors, building owners, property managers and individuals for over 20 years. We work closely with our customers to bring them the best possible product and offer maintenance plans to keep that product up in great condition. Our crews take pride in their work and our customer service is second to none. We look forward to showing you how Bates Paving & Sealing can help you with your project.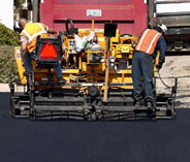 We offer professional services that range from paving new parking lots and complete removal and replacement of existing lots to repairing annoying pot holes. We specialize in repair of commercial, industrial, privately owned parking lots and driveways as well as maintenance of existing asphalt surfaces.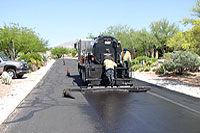 Seal coating allows us too extend the life of asphalt pavement by protecting it from the damaging effects of the environment, including moisture and ultraviolet oxidation.
Line Marking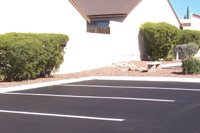 Re-striping of parking spaces and crosswalks can improve traffic flow and improve public safety. We can layout and stripe the 2000 car parking lot or install the one "NO PARKING" stencil that you need.